On the occasion of the 30th Anniversary of Hungary joining the Council of Europe the Permanent Representation of Hungary Strasbourg organized a Hungarian contemporary art exhibition entitled Flowing time – Elfolyó idő displaying works of artists of Hungarian Academy of Arts. Due to the COVID-19 pandemic the exhibition was open from 20th October 2020 until the new lockdown measures of France entered into force ten days later.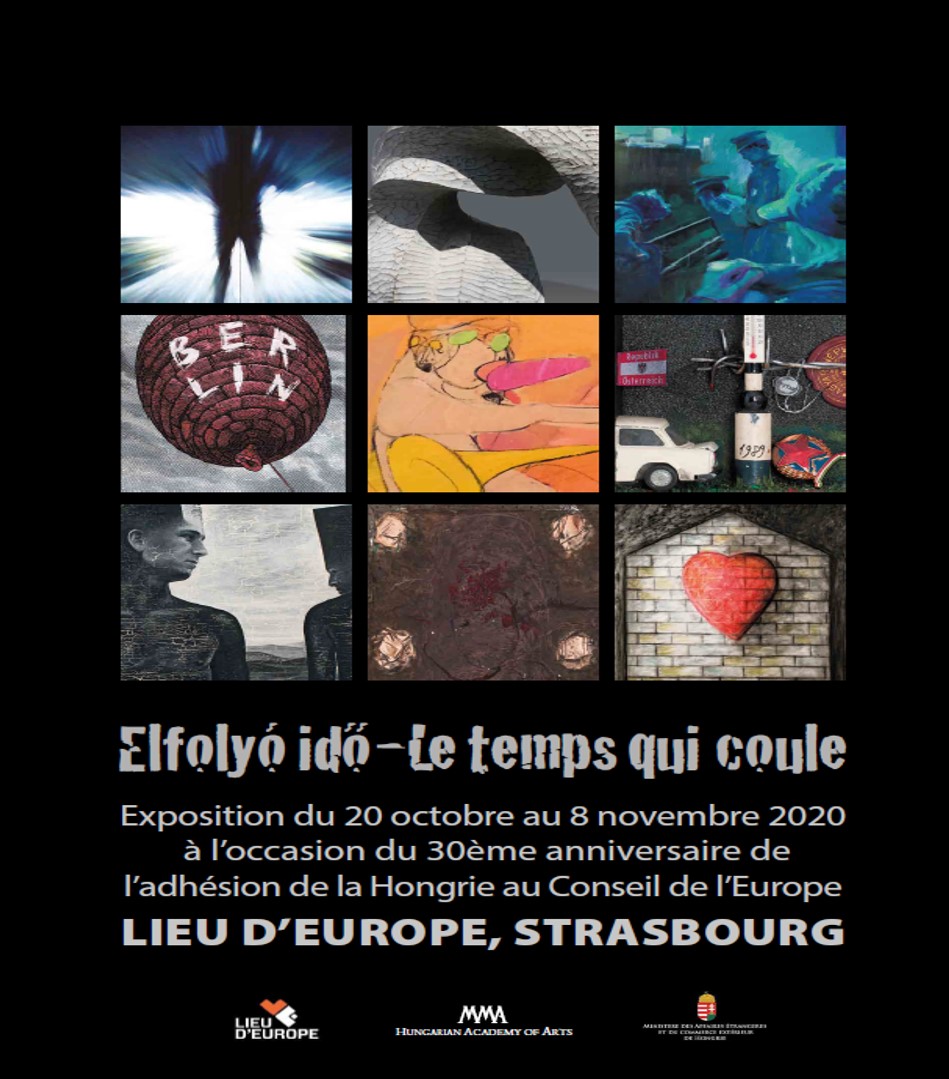 Unfortunately due to the COVID-19 pandemic an opening of the exhibition couldn't be held.
We share with you below the preface written by Ambassador Harry Alex Rusz, the Permanent Representative of Hungary to the Council of Europe to the exhibition's catalogue:
"Dear Reader
We celebrate a highly important anniversary in Strasbourg, in 2020 as Hungary became member of the Council of Europe thirty years ago, on the 6th of November 1990. Hungary was the first country which joined the Council of Europe from the outside of the Iron Curtain from among the countries of Central and Eastern Europe and as a result, it could start the reunification of Europe at institutional level.
Changes occurring 30 years ago allowed to European nations connected by common historical and cultural traditions to work together in common institutional framework for common European values. It was an important step of this process that Hungary ratified the European Cultural Convention the objective of which is to promote greater understanding between European nations. Deriving from this spirit it was highly important for the Permanent Representation of Hungary to the Council of Europe to commemorate this significant anniversary through the language of arts. It is a great pleasure for us that we can present the contemporary visual art exhibition, Flowing time by the artists of the Hungarian Academy of Arts realized in the framework 30 years of Freedom program series in Strasbourg. The exhibition which reflects upon the opening of the borders towards West all well, is an excellent symbol of the world changed three decades ago and the reunited Europe in its process played a prominent role Hungary.
Looking forward to the future, 2021 will be another milestone for Hungary in Strasbourg as our country will hold after 1999 for the second time the Presidency of the Committee of Ministers of the Council of Europe providing a further opportunity to present our common European heritage through the language of culture.
Harry Alex Rusz
Ambassador Extraordinary and Plenipotentiary
Permanent Representation of Hungary to the Council of Europe"
You can find more pictures about the exhibition by clicking here.